The Soleila G. Estien Memorial Swim Strong Scholarship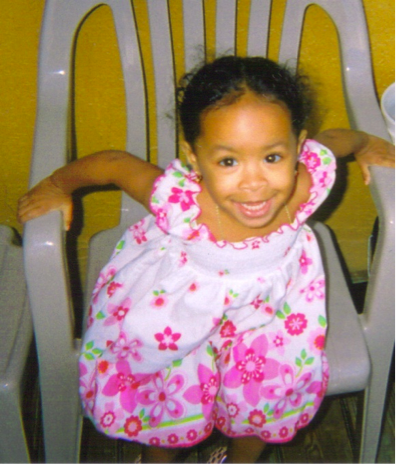 Soleila Grabiella Estien
(Jan 4, 2007 – Nov 27, 2009)
Our journey began when, on Friday, January 4, 2007 at 5:54pm, our daughter, Soleila was born. She became the joy and center of our lives. She was our precious star, shinning so bright. With her warm disposition and glow, she brought love and happiness to our lives.
Soleila observed, explored, and learned the world around her. There wasn't any corner in our home she did not explore. Before long, she was a talking two years old who wanted to be independent, and curiously explore the vast world around her. Looming, however, was an unforeseen event that would change our lives forever.
On November 27, 2009, the morning after Thanksgiving, I kissed and hugged Soleila goodbye. Standing in the doorway, all bright eyes with her innocent smile, she waved goodbye. Missing her already, I stole one more glance at her, and saw my daughter for the last time. Soleila, our much-loved daughter, died that day as a result of drowning. She was 2 years old.
How do you pick up the pieces after the loss of your child? How does one go on? We are not alone. According to Centers for Disease Control and Prevention, drownings are the leading cause of injury death for young children ages 1-4, and three children die every day as a result of drowning. It is unexpected and most often quick. Loosing Soleila unexpectedly, then facing a life without her was a painful reality. We realized very quickly that death of a loved one impacts your entire life. However, instead of yielding to the pain, my husband and I found a purpose during the healing journey. Through partnership with Just Swim Inc., The Soleila G. Estien Memorial Swim Strong Scholarship was established, in honor of her memory, to help families in protecting and preventing their child from drowning by teaching their children to swim, one child at a time.
Undeniably, our hopes and dreams came to an earth-shattering halt that Friday afternoon in 2009. Yet the dawn of a new day has arrived, and through the anguish and longing for her, we found peace and hope. Peace in our most cherished memories and hope that we can go on living to help others and enjoy life even though Soleila's has ended.